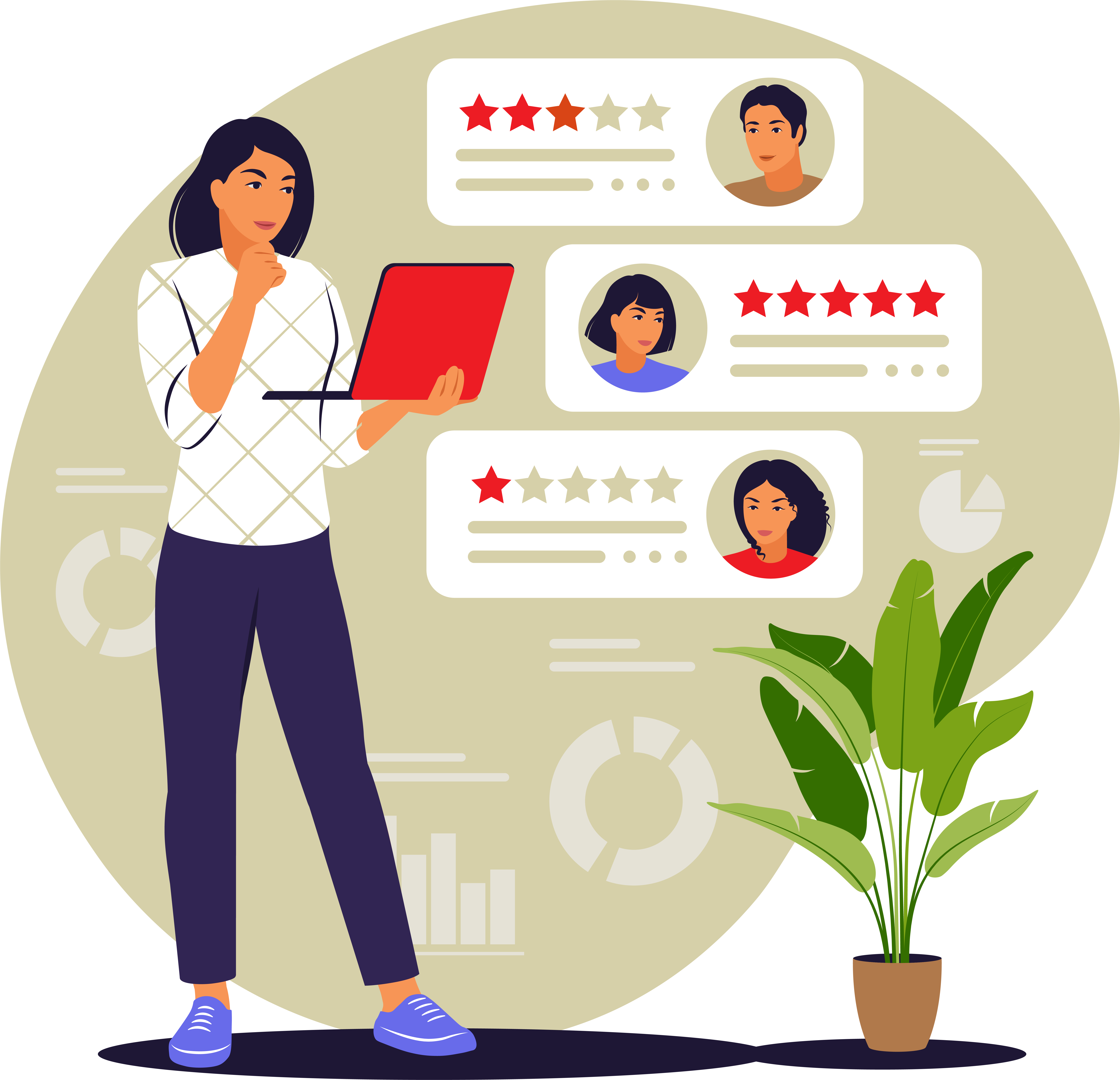 Google Reviews for Improved Local SEO
Local SEO & Google Reviews – What's the Big Deal?
Google reviews are an increasingly important part of local SEO performance for businesses. They provide customers with a platform to leave feedback on the products, services, and customer service offerings. This helps potential local customers make informed decisions about their purchases.
By actively monitoring customer reviews and responding to any issues or questions that arise, businesses can use local Google reviews to demonstrate their commitment to superior customer service. This helps build trust with local customers and positively impacts local SEO rankings, which can attract even more local businesses.
With the right review management strategy in place, all small businesses should be able to leverage local Google reviews for improved local SEO performance.
What Are Google Reviews?
Google reviews have become an increasingly popular tool as more shoppers flock to the internet for business reviews and ratings. What many business owners may not be aware of is that these reviews are factored into the local search ranking.
The more positive reviews you can get, the higher your business will show up on Google search results pages. Needless to say, this factor makes it important to encourage potential customers to leave a review after engaging with your business.
On the other hand, negative reviews can quickly drag down this ranking, so it's essential to be proactive about managing and soliciting honest customer feedback. Plus, responding to reviews (positive or negative) shows that you care about what customers think – another plus in terms of fostering trust with potential customers.
All in all, getting familiar with Google reviews and understanding how they work should be a priority when it comes to promoting your business online!
Interested in getting more reviews for your business? Check out this article The Best Review Generation Tools For Small Businesses
How Do Google Reviews Affect Local SEO?
Google reviews can provide an invaluable boost to your local SEO. Studies have shown that reviews provide an additional suggestion of trustworthiness to search engine algorithms. This means higher ratings will be rewarded with a higher rank in the organic search results.
To stay ahead of the competition and make sure your business is seen, it is essential that you maintain excellent reviews across multiple platforms. This is because reviews below a three-star rating will negatively affect your online reputation and result in decreased visibility.
Don't forget that reviews should represent authentic customer experiences. Encouraging reviews through discounts or incentives may seem like a good idea but Google has strict regulations against this behavior. In fact, they may penalize those who are caught practicing it.
Knowing how reviews affect local SEO and proactively monitoring the reviews associated with your business can help ensure that all roads lead to success!
Improve Your Business's Search Ranking with Reviews
Google reviews can have a direct influence on SEO, as customer feedback is taken into account when Google ranks local businesses.
Want to improve your local business search rank? Google reviews can be the key! While there are other ranking factors to consider, customer feedback plays an important role and can push up your rankings or send them tumbling down.
Bad reviews take their toll – but luckily there's a solution. Make sure to actively track and respond to online reviews about your business. Keep in mind that prioritizing both positive and negative responses is going to be pivotal for local SEO success.
Don't wait until it's too late and you're losing out on potential customers. Listen to what people have to say about your business and start climbing the local search ranks today.
Studies have demonstrated the positive effect of reviews on SEO, and Google has acknowledged this connection.
When it comes to leaving a lasting impression in your local community, developing an effective online presence is key. Having a glowing review left on a Google business profile could make all the difference. Studies have demonstrated the positive effect of reviews on SEO, with Google even acknowledging this connection.
And while there are other factors affecting search rankings, monitoring and responding to customer feedback from Google reviews can be a major factor. So make sure you stay ahead of the game and actively manage your online reputation. Start with tracking responses to those all-important reviews for maximum impact!
It is important to remember that reviews are not just a tool for boosting your local search ranking. Reviews help to provide insight into the experiences of customers and can offer useful feedback on how you can improve your services or products.
Taking the time to thank reviewers, reach out to dissatisfied customers, and actively engage with their feedback can make all the difference in improving customer loyalty. This will turn one-time buyers into lifelong customers. Not to mention, it will help keep the good reviews rolling in!
Having a presence on Google Business Profile is essential for businesses, but it's also important to make sure that your profile looks polished and professional. Check out this article 6 Best Practices to Improve your Google Business Profile
Leverage Multiple Platforms for Greater Visibility
The number of Google reviews that you have for your business is incredibly important when it comes to improving its SEO performance. In fact, Google reviews can be leveraged in multiple ways in order to make your page appear higher up in local searches.
Along with the number of reviews, businesses should also make sure to manage their social media. Content posted across platforms and comment threads, as well as other review sites; are all factors that are weighted heavily when it comes to local search engine rankings. Thus, actively managing these accounts can really give your website a boost.
Make sure to stay active on multiple platforms. Also, remember that the quality of reviews is just as important as the number of reviews. Responding positively to customer feedback and promptly addressing any issues will help you to build a strong online presence. Plus, it will increase visibility in local searches, and ultimately improve your business's SEO performance!
Want to learn more about how to leverage social media? Read our article How to Use Social Media for Small Businesses: A Cheat Sheet
So What Should You Do?
To maximize the effectiveness of customer reviews, it's important to actively seek out positive ratings from your customers. This can boost your brand reputation and make potential customers more likely to make purchases. Plus, it will also provide invaluable insights into what people think about your products or services.
It's an effective way to get honest feedback that you can use to make improvements where needed. Also, you'll be able to ensure that your business is providing the highest quality services or goods. All in all, listening to customer reviews and responding quickly with proactive strategies can lead to improved local SEO performance.
Receiving detailed feedback from customers about their experiences with your company is an invaluable asset for any business looking to stay competitive in the digital age. Quality information allows potential customers to make informed decisions about whether or not your services are right for them. It can help you identify areas of improvement that could boost customer satisfaction.
In addition, responding wisely and promptly to any complaints or negative reviews shows prospective searchers that you truly care about successfully resolving customer issues. Investing time in this area of customer service can build serious trust with users which, of course, leads to more conversions down the road.
Get Proactive with Your Google Reviews
Google reviews are a critical aspect of local SEO. They help boost organic visibility and increase your chances of ranking higher on search results pages. Plus they also allow customers to offer valuable insight into their experiences with your business.
To make the most of them, you need to stay proactive; actively solicit feedback, and encourage customers to leave detailed reviews. Also, you'll want to respond promptly to any negative comments or complaints that are posted. Think of doing all this as investing in and nurturing a word-of-mouth network. It'll give your business the biggest bang for your SEO buck!
So don't take customer reviews lightly. Use them as an opportunity to show what sets you apart and why people should choose you over other businesses!
Written by: Anna Bennett