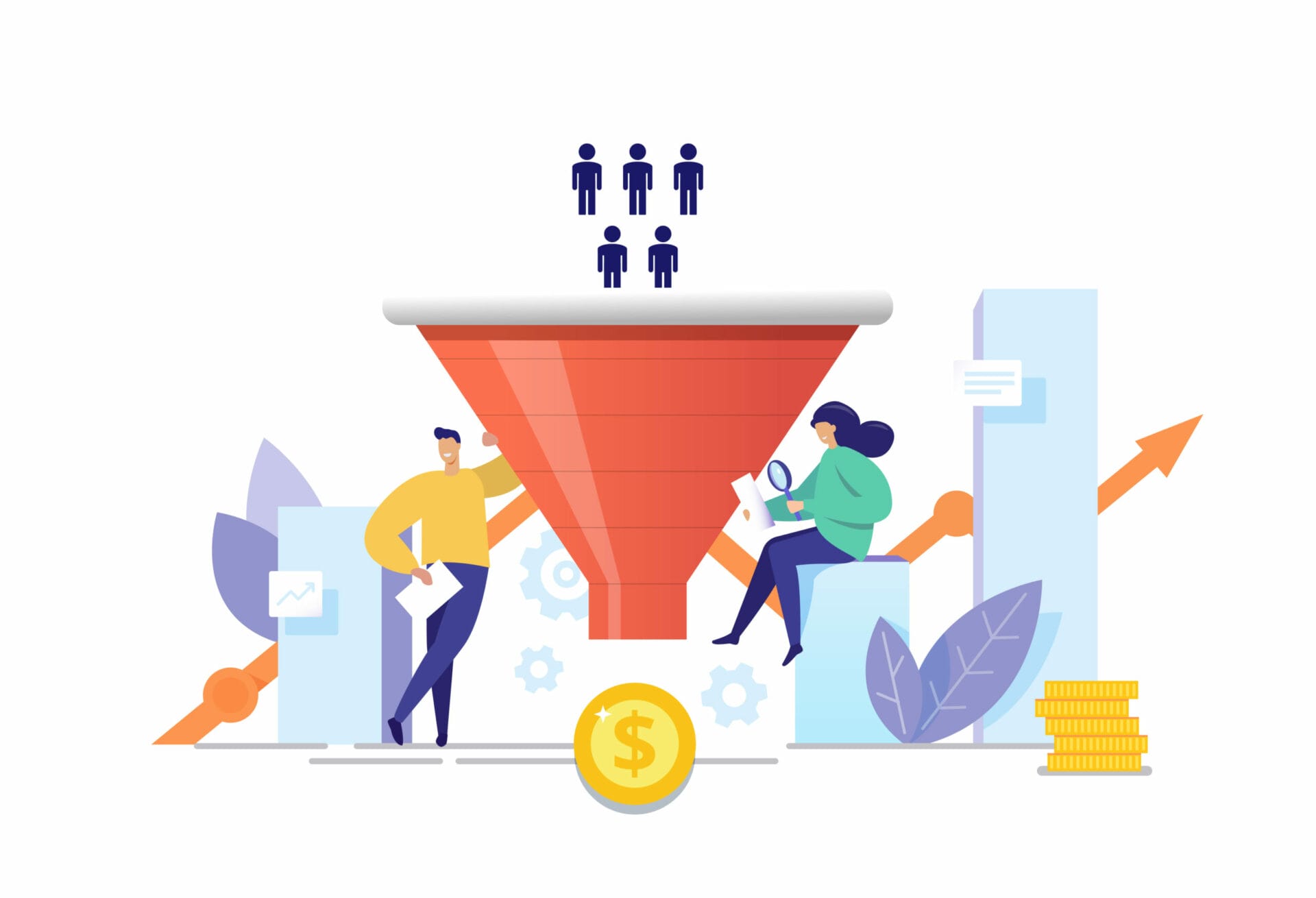 How to Create a Lead Generation Funnel that Converts
The Essential Guide to Lead Generation Sales Funnels
As a small business owner, lead generation is an essential part of growing your revenue. But with so many lead generation processes and tools available, it can be hard to know what approach to take.
That's why having a lead generation funnel in place is so important. Not only does it help you define your target audience and craft an offer that resonates with them, but it also gives you the ability to see where leads drop off in the process. You can use this information to make changes to improve conversion rates.
Your lead magnet will serve as the foundation for your lead gen funnel and should be highly targeted. Crafting content around this lead magnet such as blog posts, emails, and social media campaigns can help attract potential customers who are interested in your offer.
Once leads have been generated, you can use lead tracking methods to find out what works best for your sales team so they can focus their efforts on converting customers more efficiently. With all these elements in place, lead generation funnels are an essential tool for helping small businesses grow their revenues and reach new customers.
What is a Lead Generation Sales Funnel?
Lead generation funnels are an essential element of modern marketing and can be incredibly effective when implemented correctly. They help to create and sustain long-term relationships with customers, growing a business's customer base over time.
Through the funnel, businesses can nurture potential leads by providing educational materials about their products and services. This is then followed by more direct action stages such as desire, and action. This is where potential leads get more information from the company as they become more familiar with their offerings and ultimately convert into paying customers.
It's no surprise that many companies have found success with lead generation funnels. They provide a great way to build trust with potential leads in a very controlled and automated way.
Define Your Target Audience: Tailor Content to the People You Want to Reach
Understanding the demographics and needs of your target audience is essential to finding success in lead generation. Create content that is tailored and unique to the people you're targeting.
To do this, identify the primary characteristics of your ideal customer—including everything from age range and gender identity to interests, hobbies, and needs. This can be based on existing data or generated by performing market research.
Remember that understanding your target audience's wants and desires enables you to create content and lead magnets they'll be excited about. This increases both their engagement with your business's offerings as well as the number of leads produced.
Pro Tip: Creating a buyer persona can be a helpful tool to use in lead gen funnel development. A buyer persona is an in-depth representation of an ideal customer based on existing data and research. To learn more – check out this post Unlocking the Power of Buyer Personas.
Craft a Compelling Offer: Think About Your Lead Magnet
Once you have identified your target audience, the next step is to create an offer that resonates with them. This should include lead magnets such as guides, ebooks, webinars, and coupons that are designed to appeal to potential customers and lead them down the funnel.
The goal of a lead magnet is to capture contact information, usually an email address, which can then be used for lead nurturing. Email lists are a powerful tool when it comes to making connections with potential customers. By consistently engaging with an audience over time, you can cultivate relationships and build trust – elements essential for successful lead generation ventures!
It's also important to ensure that your lead magnet is high quality, relevant to the target audience, and clearly communicates the value of what's being offered.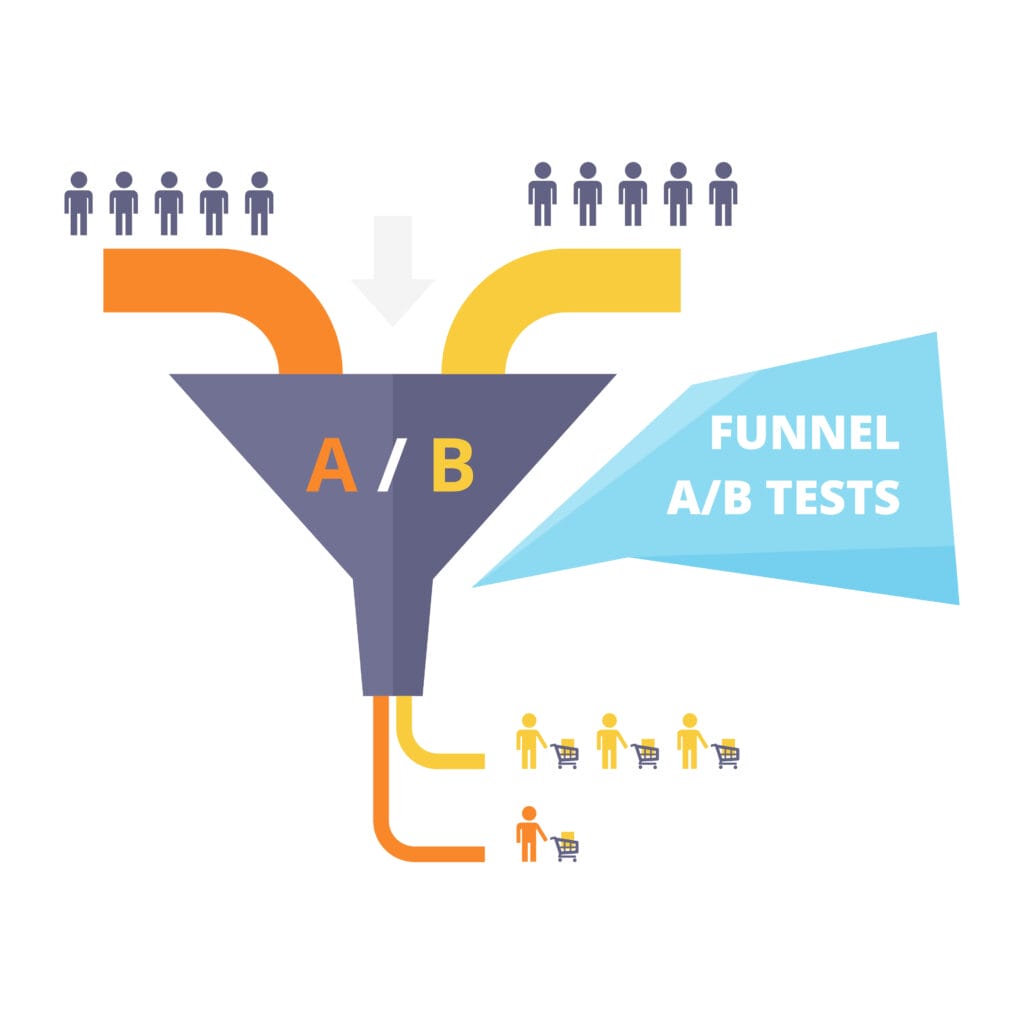 Optimize Your Funnel for Conversions: Make the Most of Your Metrics
Now that you have your lead magnet in place, it's time to optimize your lead gen funnel for maximum conversions. This involves tracking and analyzing data from key metrics such as lead flow, click-through rates, conversion rate, and more. By doing this you can identify what is working well, and what needs to be improved.
For example, if the lead flow is not as high as you would like, try using different lead generation tactics. These could include email campaigns, social media posts, and landing pages. You can also experiment with different offers and content to see what resonates most with your target audience.
By understanding your funnel's performance, you can make the necessary adjustments to ensure lead generation success.
Measuring Success: Tracking Your Lead Gen Funnel
Finally, it's important to measure the success of your lead gen funnel by tracking key metrics such as lead flow, lead nurturing, and conversion rate. This will allow you to determine whether or not your lead gen funnel is successful and to identify areas for improvement.
It's also important to track lead quality, as this will help you determine if your lead gen efforts are actually producing the desired results. For example, are the leads generated by your lead gen funnel actually converting into paying customers?
By tracking all of these metrics, you can make adaptations as necessary in order to ensure lead generation success.
The 4 Essential Stages of a Lead Gen Funnel
Awareness: The lead is made aware of your brand or offer
Creating awareness is an essential top-of-the-funnel activity for any successful marketing campaign. It allows your brand or offer to be noticed and become top of mind.
Interest: The lead shows interest in what you have to offer
At this stage of your lead generation funnel, you want to focus on engaging and nurturing the lead. You do this by providing them with relevant information about your product or service.
Desire: The lead has enough information to make a decision
After careful consideration of your product or service and weighing the potential benefits and drawbacks, this qualified lead has enough information to make an informed decision.
Action: The lead takes an action such as signing up for an offer
This is where lead generation funnels become particularly important, as leads are encouraged to take action and sign up for your offer.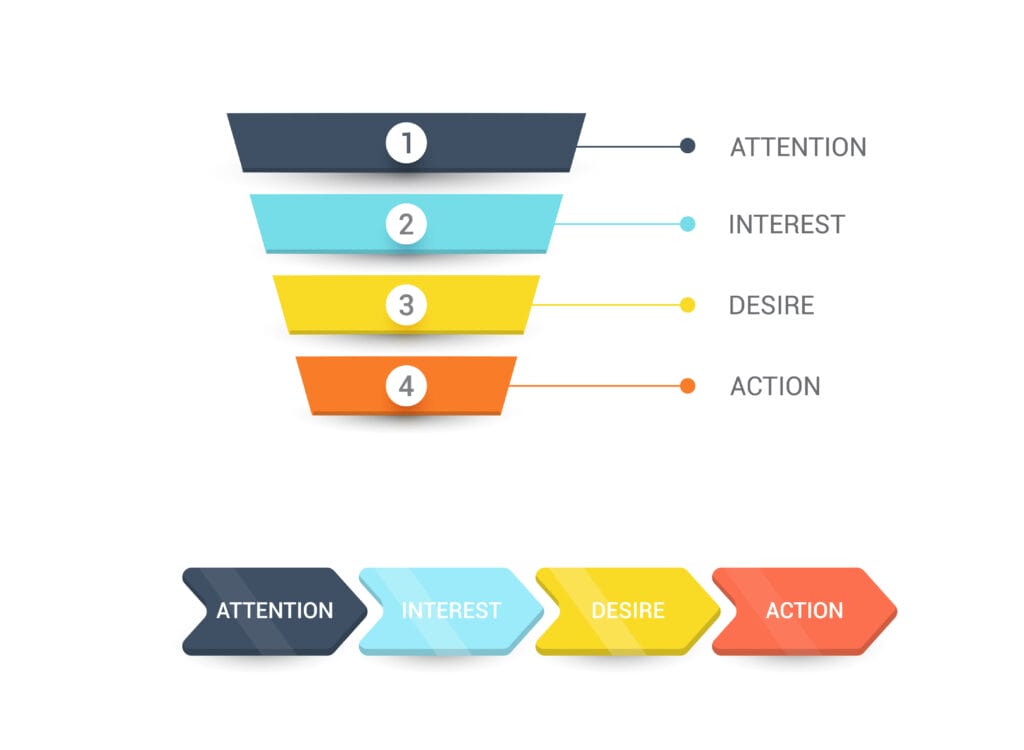 Tailor Your Content to Meet The Needs of Your Target Audience
There are various content marketing tactics that can be used to drive traffic and generate leads. Many marketing teams find success by leveraging a mix of tactics, and tailoring content to meet the needs of their target audience.
Email marketing campaigns can be an effective lead generation tactic. By sending out regular emails to your list of subscribers, you can keep them updated on new offers, services, or products. You can also inform them about upcoming events or special discounts. You can also use automated email sequences to nurture leads and move them through your lead funnel.
Learn more about email marketing by reading our blog post Small Business Email Marketing: Is It Right For You?
Social media posts are another great way to drive traffic and generate leads. Through organic content and engaging visuals, you can reach a large audience in a short amount of time – perfect for lead generation! Additionally, by running lead generation ads on platforms like Facebook and Instagram you can quickly capture lead information from interested customers.
Is it time for you to start using social media for your business? Read our blog post How to Use Social Media for Small Businesses: A Cheat Sheet to figure out how to get started.
Finally, landing pages are an invaluable tool for lead gen efforts. Landing pages are designed to capture lead information by offering website visitors a chance to download content, sign up for an offer, or get access to exclusive discounts.
By including compelling visuals and concise copy on your landing page, you can ensure lead gen success. Plus, landing pages can be found by search engines and lead to higher organic traffic.
The Ultimate Guide to Lead Generation Funnels
Generating leads is essential for any business and can be quite daunting when starting out – especially if you're a small business. To maximize your potential, effective lead generation strategies and tactics such as content marketing and lead gen funnels are key.
In the long run, this allows you to grow your customer base by bringing more people into the fold. It also helps to increase brand awareness and build a pipeline of qualified leads that are ready to convert.
You gain valuable insights as well, so you can fine-tune future efforts to ensure success with lead generation that directly impacts your bottom line.
If you are interested in expanding your digital marketing efforts and optimizing lead generation funnels, contact our team today to learn how we have helped countless businesses drive lead generation and growth.
Written by: Anna Bennett