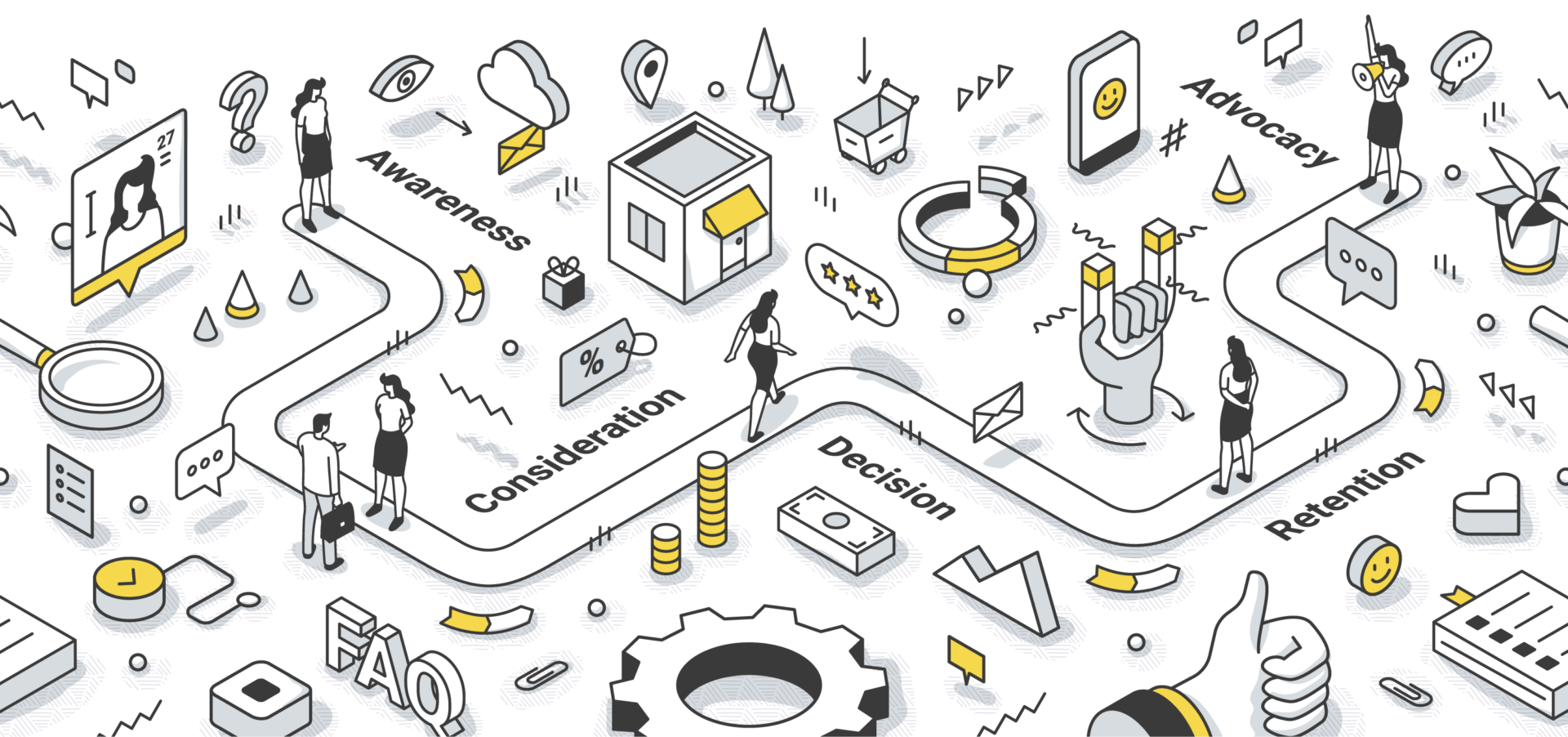 How To Create A Customer Journey Map & Why It Matters
Uncover the Secret Formula for Small Business Success with This Guide
As a small business owner, it's important to understand the customer journey. After all, your customers are key to driving success and growth. But what exactly is the customer journey? How do you map out their path from A-Z? What role does website content play in this process?
An effective customer journey map outlines each stage of interaction, from awareness of your company to post-purchase support. For example:
What content draws potential customers to your website?
How can you best demonstrate value?
What support do they need after buying?
Analyzing how website content impacts each step helps ensure you meet customers' evolving needs and exceed expectations. By crafting a customer journey map, you'll uncover a secret formula for small business triumph.
In this blog post, we'll explore how creating a customer journey map can be beneficial for your small business. Plus, we'll go over how to go about constructing it step by step. We'll look at how website content affects each stage of the process and offer tips as we go along.
What is a Customer Journey Map?
A customer journey map is a powerful tool for understanding your website visitors' experiences. Mapping the customer journey involves looking at your product or service through your customer's eyes. Then documenting the key stages of their experience as they move through your sales funnel.
The customer journey map typically includes:
Initial Awareness: How a potential customer discovers your solution and why they might want it.
Consideration: How customers compare your product or service to alternatives and make an informed decision.
Purchase: How customers buy, what payment options are available, and how goods/services are delivered.
Post-Purchase Support: What support is offered after the sale and how you can keep customers engaged?
By understanding the customer's perspective – their questions, feelings, and obstacles at each stage – you can design website content that speaks directly to customers' needs. Customer expectations are always shifting so it's important to reassess your customer journey map on an ongoing basis.
Whether it's helping them see how your product solves their problem, or guiding them easily from interest to purchase, a customer journey map helps you walk in your customers' shoes and align your website content to the phases of their journey.
Need help building out your lead funnel? Read our post How to Create a Lead Generation Funnel that Converts! Learn how to craft a lead funnel that takes prospects from strangers and turns them into paying customers.
Why You Need a Customer Journey Map
The customer journey map is a powerful tool for small business owners. It helps you assess the effectiveness of your website content, understand and anticipate customer needs, and identify potential problem areas or areas of improvement.
Customer journeys are never linear – they can involve multiple touchpoints, including emails, web pages, phone calls, referrals, and more. By understanding the full range of interactions that occur between customers and your brand, you can make sure your website content is cohesive and tailored to their needs at each step along the way.
Identifying the Key Stages of Your Customer's Journey
Mapping your customer's journey is vital to creating content that resonates. Start by defining buyer personas and the key interactions they have with your brand. Do they download an ebook first before contacting sales? Or watch a product demo video?
Chart each touchpoint in their journey to becoming a customer. Then, align your website content to match each stage.
For example, place that ebook prominently on your home page for new visitors. Include a robust product video library for those evaluating solutions. And have case studies and testimonials ready for prospects nearing a purchase decision.
Understanding your customers' path to conversion will ensure your content delivers real value at every interaction with your brand. From the first time they see your brand to post-purchase support, your customer journey map will help you craft content that meets each step of the buyer's journey – and keeps them coming back.
Want to learn more about buyer personas? Check out our recent post "Unlocking the Power of Buyer Personas" where we show you how to create personas that can help your business succeed. We also provide tips on maximizing the effectiveness of buyer personas, so don't miss it!
Aligning Content to Each Stage of the Customer Journey
Mapping your website content to the customer journey is key to increasing customer engagement. Each stage from initial interest to loyal return visitor has different needs and mindsets, requiring tailored content to resonate.
Whether a social media ad sparks first interest or a blog post addresses common customer pain points, creating relevant content for every customer touchpoint will nurture them along their journey. For example, offering free trials or promotional discounts to prospects helps nudge them further down the conversion funnel.
Some marketers choose to follow a basic customer journey map template, while others like to create a one of a kind flow. Either way, crafting content that speaks directly to your customer's needs will help you build trust and loyalty.
Understanding how and why customers interact with a brand at each stage allows for content that speaks to customers in the right way at the right time, thereby boosting the customer experience and relationship.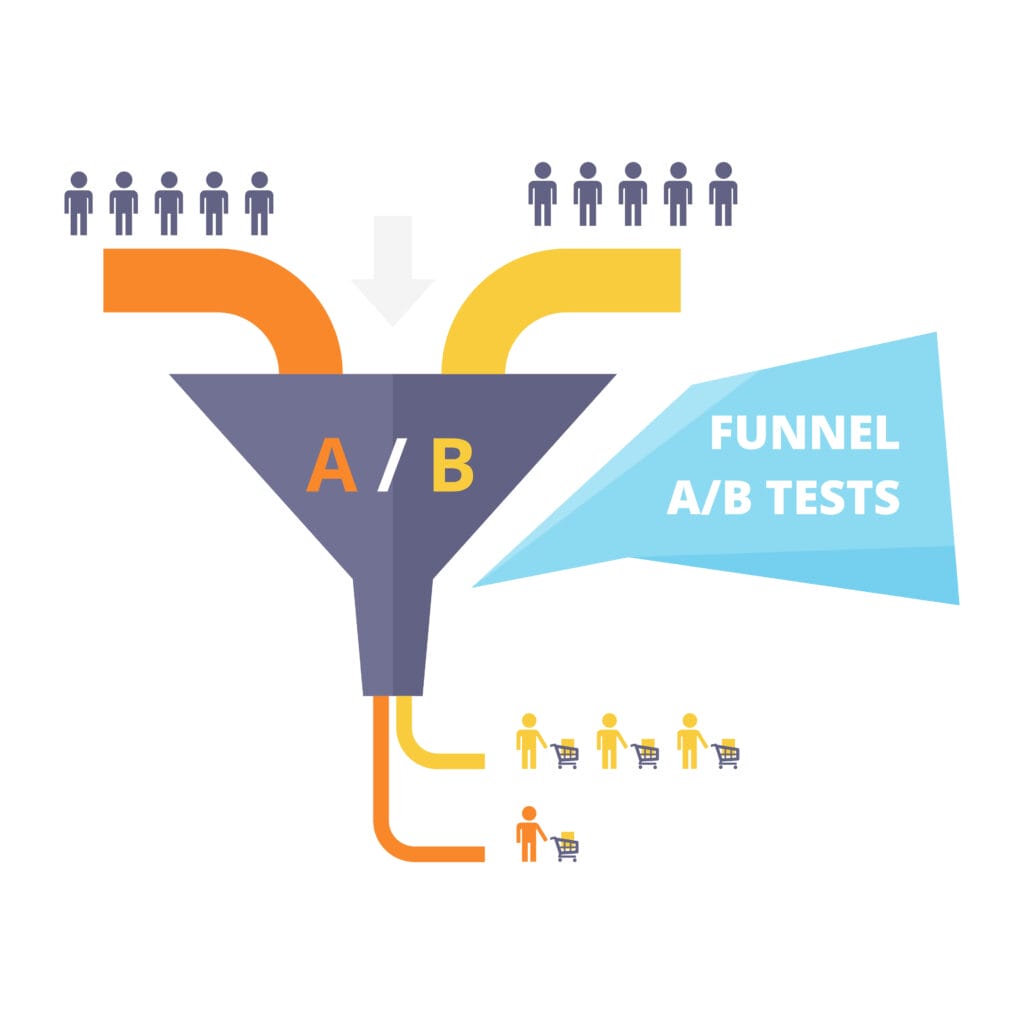 Using A/B Testing to Assess Impact & Refine Design
A/B testing is a powerful tool for evaluating website content and design. By comparing two versions of a page, A/B testing allows you to measure the impact of changes on user engagement and conversions.
This data can be used to refine your website design, copy, and other elements in order to create an optimal customer experience that drives more sales. With A/B testing, you can identify which elements are working best—and make sure they stay front-and-center on your site.
Plus, by analyzing user behavior across different pages, you can uncover new insights into how customers interact with your brand online. This data can help you better understand customer preferences, identify areas of improvement, and craft personalized experiences that keep customers coming back. A/B testing also helps to ensure that your website remains fresh and up-to-date over time.
When used in combination with other methods of evaluating impact (including surveys and interviews), A/B testing can provide invaluable feedback for ensuring your website content effectively speaks to customer needs. With this data in hand, you can create a website that aligns perfectly with the customer journey – and ultimately drives more conversions.
Crafting the Right Tone of Voice for Your Website Content
The tone of voice you craft for your website content determines how customers will interact with your business. Before writing, understand your customer personas and what a typical 'day in the life' looks like for them.
With this context, craft a tone that speaks their language and addresses their needs. Whether clever and humorous or friendly and casual, choose a consistent tone that resonates with your audience to build a genuine connection and keep readers engaged.
By crafting a tone of voice that is natural and inviting, you can create a strong emotional bond with customers and keep them coming back.
Ultimately, understanding your customer journey and tweaking website content accordingly will help ensure you are delivering an enjoyable and rewarding experience at every interaction. As the saying goes: customers don't just buy products – they also buy experiences.
With the right content strategy in place, you can use website copy to build lasting relationships that drive conversions and turn satisfied customers into lifelong brand advocates.
Utilizing Targeted Messaging for Maximum Engagement & Conversion Rates
Targeted messaging is key to maximizing audience engagement and conversion rates. Understanding how your customers feel and what their expectations are is critical to crafting content that resonates.
By personalizing messaging to specific customer attributes and behaviors, you can demonstrate that you understand their pain points and speak directly to their needs.
This kind of tailored communication, delivered at the right moment, cuts through the noise and captures attention, leading to higher engagement, satisfaction, and bottom-line impact.
Additionally, by leveraging data-driven marketing and automation tools, you can make sure that the right messages are sent at the right time – ensuring maximum engagement and conversions.
By understanding the customer journey and utilizing targeted messaging to meet customer needs, you can create a winning content strategy that boosts engagement, drives more conversions, and helps your business grow. 
Find out more about how to craft the right message to find your perfect customer by reading our post SEO Copywriting Tips That Work – For Real. Learn the basics of SEO copywriting and how to create compelling content that will help you reach, engage, and convert your audience into paying customers.
Design the Perfect Website Experience for Your Customers Today!
Creating an effective customer journey map takes some diligence, but the rewards are worth it! Tailoring content to each individual stage of the user's journey, honing in on the tone of voice and messaging, and utilizing A/B testing to refine design elements are all part of creating a website that keeps users coming back for more. 
By using targeted messaging and understanding the customer journey, brands can craft a content strategy that resonates with customers and drives conversions. With the right tools in place, you can create an effective website experience that turns satisfied customers into lifelong brand advocates.
From customer service to website design, understanding your customer needs is the key to driving engagement and conversion. By leveraging data-driven marketing and automation tools, brands can ensure they are delivering the right message at the right time – leading to higher satisfaction, better ROI, and a stronger bottom line.
With thoughtful planning and an actionable strategy in place, you can create an unbeatable website experience that will keep customers coming back for more.
Final Thoughts
The customer journey experience is crucial to a website's success – after all, understanding how your clients move through your pages is key to keeping them engaged. And who doesn't love engaged clients? So grab a pencil and start mapping out that journey, because the goal of increased engagement and conversion rates is within your grasp!
Written by: Anna Bennett